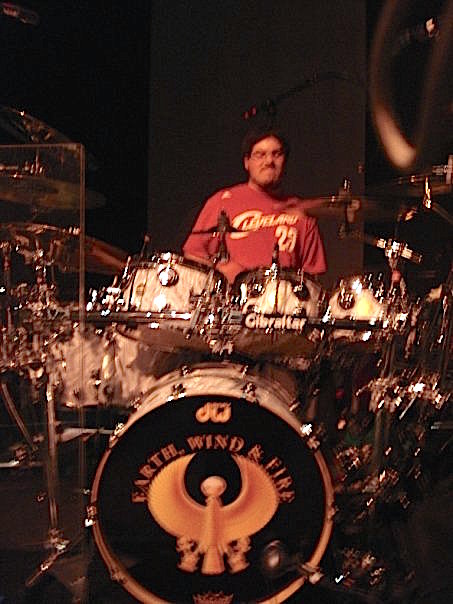 I was in high school - there was a drummer / percussionist living in my hometown right outside of Cleveland who is a legend. Jamie Haddad, who had toured playing with artists including Paul Simon, Esperanza Spalding, Carly Simon, as well as countless legends in the realms of Jazz and World Music, was taking new students. Since I was considering pursuing a degree in music at either Berklee or NYU (I ended up at NYU), I was taking time during my junior year of high school to prepare for an audition. Jamie was an instructor at Berklee, so I was thrilled to take a few lessons with him. I remember a moment where he realized that I needed to back off on studying complicated concepts on drums and focus on simple groove and timekeeping. His solution was simple: turn off the lights in his drum studio, step outside, and leave me to play along with a song. He told me he'd be back in 20 minutes to check in on how I'm locking in with the record - he said no drum fills, no flash, just play the groove. He put the song on repeat, and left. The song was Earth Wind & Fire's incredibly beautiful quiet storm ballad "That's The Way Of The World." 
This lesson in good feel, in addition to playing some EWF material in marching band and jazz ensemble during school kickstarted a period where I tracked down absolutely anything I could by this heavyweight funk/soul/R&B/disco/jazz band. This was before iTunes, when I had to dig through vinyl that wasn't yet released on CD, and even special imported versions of albums that had bonus tracks on international releases. I was consumed! In 2006, I got my first chance to see EWF, and connected with their manager, who allowed me to come backstage to meet the band. I immediately hit it off with original EWF drummer Ralph Johnson and current drummer John Paris. 
Fast forward a few years - I was lucky to call John and Ralph friends, to have worked in LA with EWF founder Maurice White, and to call Ralph a real mentor. Ralph and I would chat on the phone with drumsticks and a practice pad, talking about coordination and stick control, and his upcoming book. I was thrilled to submit an article on Ralph and his awesome instructional book - "Drum Exercises for the Pop, Funk, and R&B Player" - as my first submitted contribution as a writer for Modern Drummer Magazine. I have been lucky enough to sit in with them on several soundchecks whenever I get the chance to shed drumming technique and ideas with Ralph and John. EWF has continued to be an endless source for inspiration, motivation, and advice, and I will always be a fan!