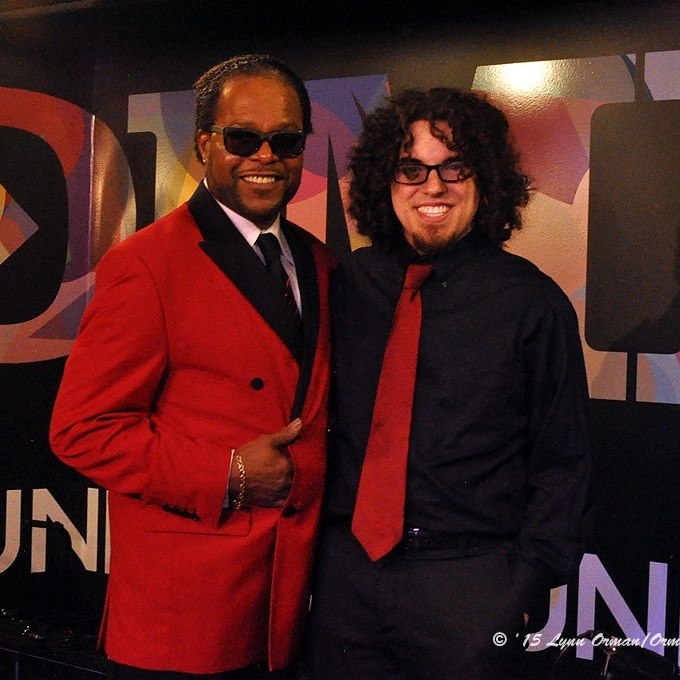 When I met Reginald Torian, Sr., I was in a difficult place. I had grown up idolizing and internalizing the music of the Four Tops, and had entered my sixth year of working with them, starting as their archivist and eventually touring full time as their drummer and musical director. However, the sparkle-eyed blind love of the music had started to be replaced with a wariness of the future. How would I make a living in my post-Four Tops career? Could I continue solely making music full time, professionally, for a living? As the Tops' organization had changed around me, and my favorite band had started me upon a path that seemed both difficult to surpass and difficult to maintain, I had the realization that I had to return to school. It was this realization, this succumbing to the realities of a future that may include a life outside of music, a full time job, and a less creative path that caused me to write the song "Please (Don't Give Up On Your Dreams)." I decided that it was best for me to step away from touring with my favorite band to finish my college degree and create a launching pad to allow for a long and sustainable career in avenues that included more than performance. Even if, at the time, there seemed like nothing in the world that meant more than performing with my favorite group. 
This song speaks of a "closet rocker, a weekend star, an office drone who works too hard," whose "song is fading" as time passes by. It speaks of a songwriter with a "storied life, and an empty page from nine to five." It urges those with a creative drive to continue to fan the flame, and not allow themselves to lose that spark. While I was writing the song, I was listening to an endless stream of music by Curtis Mayfield & The Impressions. Curtis' message of encouragement, enlightenment, equality, and honesty struck a chord with me, and helped me feel comfortable making what was sure to be a life-altering decision. Naturally, I began looking into The Impressions' present day career, and realized that they were still going strong with Reginald Torian as their velvet-voiced lead singer. I couldn't hear any other voice that was more fit to deliver the song's message. 
I got bold. Finding Reggie online, I sent him a message having never once met him. Reggie was a star. Touring the world with a legendary group, carrying on the legacy of Mayfield, recording hits that stretched all the way back to the early 70s, and still carrying on strong. He had no reason to give a fledgeling sideman and songwriter like me the time of day. However, he did respond, and I was quick to send him a demo of the song. His reaction: 
"I don't often get to say this after listening one time but you my friend may have a smash on your hands. This is one I would like to record. If you have a practice track ..please send also. I will guard it with integrity." 
Not only did he guard the early version of the song with integrity, but he picked up my story and ran with it, delivering an impassioned recording that sounded as though it came straight from his own heart. He enthusiastically put his all behind the single, with 50% of profits benefiting the Chicago Public Schools' music programs. He sang the song at events, showcases, radio stations, stages, and studios. He championed the message and the cause, and at times seemed to believe more in the project than even I could. Reggie and I went on to record another single together, to perform together in his "All Things Mayfield" premier show, and to spend hours in the studio refining a recording of that live event intended for broadcast. Reggie was a perfectionist - for himself and for his team. He could see the strengths and faults of everyone around him. He was wonderful at bringing the best out of his team, of calling on you for just the right job at just the right time, and making you feel like you were the only one in the world who could do it perfectly. Just being around him made you feel like you could conquer the world. 
Reggie saw me leave the Four Tops. He saw me struggle to finish college in New York City. He saw me leave New York to return to Detroit and pursue my love for Motown music. He saw me fight lean times and hustle for gigs, jobs, and opportunities. Each time I spoke to him about my own situation, he would drop the Mayfield-ism "keep on pushing," or tell me to "follow the yellow brick road." To put my head down and keep working, keep pushing towards my goals no matter what. He said that as I pushed, more doors would open in my wake. As he gave me this advice, he saw me slowly move from a former-sideman of a legendary group to a drummer, songwriter and producer for these legends, and a college instructor at the Detroit Institute of Music Education. His advice proved invaluable, and his confidence and unshaking motivation helped me see first hand the value of staying the path. Reggie stayed the path from beginning to end, and he was always willing to lift while he climbed. I will forever be indebted to him for lifting me to another stage in my life, and I will forever miss hearing his voice telling me to "Keep On Pushing," and to never give up on my dreams. 
Rest in Peace Reggie, and an endless thanks to you.