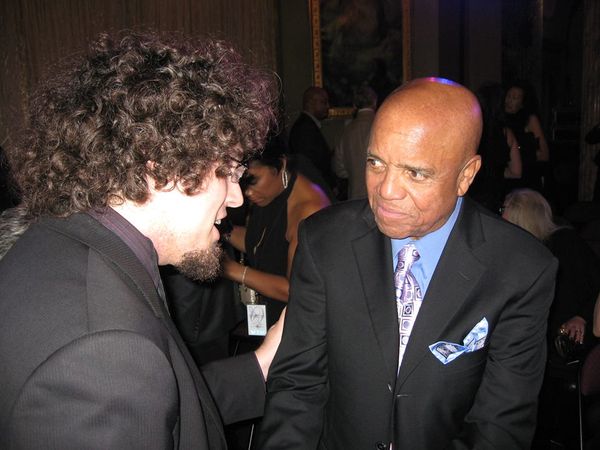 Is there one person who you can say truly paved the path ahead for you in your own life and career?

In 1959, Berry Gordy founded Motown Records in Detroit using a small loan from his family. Over the years, the label grew from a family operation with a garage studio into a groundbreaking, barrier shattering, multi-platinum selling community of songwriters, artists, musicians, engineers, and businesspeople including the Funk Brothers, Four Tops, Temptations, Martha Reeves & The Vandellas, The Supremes, Smokey Robinson & The Miracles, Stevie Wonder, Marvin Gaye, Barrett Strong, Kim Weston, The Marvelettes, Velvelettes, Spinners, Contours, and so many more. The label helped to bring Detroit to the forefront as a musical mecca, and helped break down racial divides of the era as African American artists were embraced not only by young White fans, but by multicultural and multigenerational listeners around the globe.

That music also helped a nerdy young drummer from Ohio understand life around him.

Motown Records brought together The Funk Brothers, a band that displayed immense teamwork and cohesion in the studio, on stage, and in the touching "Standing In the Shadows of Motown" documentary. Seeing Pistol Allen beaming while playing drums during his final days displayed the power and joy that music brings, regardless of age and health. The Funks' camaraderie was a testament to how music can truly bring people together. Uriel Jones, drummer for The Funk Brothers, was a gamechanging early mentor who would not only teach me about music and drumming, but also allow me to connect with the Four Tops.

Berry Gordy may not have been solely responsible for the career of the Four Tops, but he unquestionably helped make Abdul "Duke" Fakir, Levi Stubbs, Renaldo "Obie" Benson, and Lawrence Payton into superstars by connecting them with songwriters Holland/Dozier/Holland and hits including "Baby I Need Your Loving," "I Can't Help Myself (Sugar Pie Honey Bunch)," "It's The Same Old Song," "Reach Out, I'll Be There," "Bernadette," "Standing In The Shadows Of Love," and many more. The Four Tops truly stayed together forever, only changing members after over 45 years of musical partnership was interrupted by the passing of Lawrence Payton. The Tops instilled a sense of musical loyalty and a desire for collaboration in my own career path. Seeing Duke handle himself in interviews helped me see how to carry myself with class, and listening to Levi crack jokes taught me to not take the crazy music-business world around me so seriously, and to enjoy myself. As my first major career-making opportunity, touring the world as percussionist/drummer/musical director with the Four Tops and Temptations opened my eyes to lessons about professionalism, dedication, and teamwork.

Berry's drive and success helped to also fuel the dreams of the entire Detroit Soul Music scene, opening the door for other labels to step into the national limelight, and helping to foster the Northern Soul Scene, which has connected me with friends and mentors including Melvin Davis, Pat Lewis, Spyder Turner, The Fabulous Peps, Chairmen of the Board, and many more.

I look at my resume today, and the list of acts I've been honored to perform/tour/record/write with sometimes reads like a Motown Revue - a true indication that Berry Gordy, by starting Motown long before I was ever born, opened the door for me to have the career that I have been so lucky to cultivate so far.

In 2012, I got a call from a good friend of mine who has worked closely with both Berry and the Motown Museum, Paul Barker. Mr. Barker was helping run the logistical side of a special event called "Project Harmony," which celebrated the unveiling of a refurbished grand piano from the Motown Museum, funded by none other than Beatles superstar and solo-artist icon, Paul McCartney. The event, which raised funds for the museum, brought Gordy and McCartney together for the first time in years. They told stories, answered questions, and played together. I was fortunate enough to help out with the event, and it was an experience I will never forget. After it was over, I had a choice to make. Berry Gordy was at one side of the room, and Paul McCartney was at the other, both graciously talking to guests. I knew the night was wrapping up and I had to decide whether I would go and chat with Paul, or with Berry.

Naturally, I chose Berry Gordy - I was able to tell him exactly what I had done with my musical career so far, and thank him for starting something that continues to open doors for young artists like myself to this day. He was very kind, mentioning his excitement at seeing the Tops on television before they were ever signed to Motown, telling me to pass along his best to Duke, and even asking to hear something from the Back To Class project. Thankfully, Motown Vault Specialist Andy Skurow captured the exact moment that I was expressing this to Berry, thanking him for paving the road that led to me meeting, working with, and learning from so many of my musical heroes.